The Most Powerful Emotion of All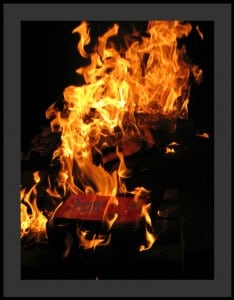 For centuries, poets and priests have reflected on the influence of emotion, noting its ability to suddenly take control of thought and behavior. After reading Paul Ekman's research on universal emotions, I was curious to know which emotion is most powerful. Some would suggest it is love. Having begun my career as a domestic violence counselor for violent and abusive men, I have direct knowledge of how powerful anger and rage can be, often trumping the intentions of love. Is there anything more powerful than anger and rage? I decided that I would answer the question through research. Because I wanted my results to be robust, I collected a very large amount of data (approximately 13 million subjects). With a preference for practical methods, I used a methodology that can be easily replicated by anyone with internet access, Google Books in particular. Using the search engine's ability to locate each instance that a specific word group appears in written literature, I counted the number of hits for phrases such as "anger made me" or "sadness made me," each time substituting a different emotional term. The results were both surprising and obvious, once I thought about it.

Fear is to be Feared
Where my experimentation lacked in scientific rigor, I tried to make up for with sheer numbers.  In addition to my pool of 13 million subjects, I compiled a list of 723 emotional terms. I did not want anything to get left out. From that list, only 20 had a significant number of hits for phrases such as, "controlled by …" or "overcome by …." After eliminating terms that are too broad (e.g., good, bad), I found that, on average, the top ranking emotional terms registered with 15,500 hits. However, fear (once embedded in compulsory statements) registered with 182,900 hits. Thus, when compared to other emotional terms, "fear" is 12 times as likely to be used to describe an event in which a person feels controlled by emotion.
Love Conquers All, (once a person is no longer frightened)
The second highest ranking emotional term was either "love" (if you include the more ambiguous search phrase, "I felt…") or "anger" (if you stick strictly to terms that imply a loss of control). However, both of these occurred only half as much as fear.
Can Fear Make a Person Act Insane?
Pondering the possibility that fear is more powerful than anger or love, I recalled a lecture by Steven Hassan (a leading authority on cult abduction and mind control). When asked how cult recruiters are able to convince highly intelligent, well-educated, free citizens to leave the comfort of their friends and family, in order to work like slaves for a cult leader, he responded, "It is done through fear. They intentionally create phobias in the minds of their targets. Having done so, they can make them believe anything."  The next thought that came to mind is the global upsurge in terrorism, the preferred tool for those who lack money and military might but are still able to dramatically impact the actions of the most powerful nations on the planet. Then I thought about national elections, and the use of fear to shape people's voting behavior. It was only four days ago that a college-educated person approached me and warned me of Obama's "secret army," that has been built by taking guns and ammunition out of the free market. His comment to me, "The stores do not have as many bullets as they used to. Even though I'm not sure what's happening, we've got to be ready, that's all I know!"  That seems to be the problem with fear.  It does not let you know much, beyond the fact that you are afraid.