Songs in the Key of Grief: Loss & Longing During Adolescence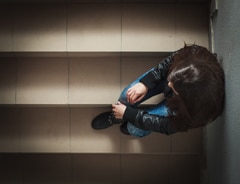 As therapists, we immerse ourselves in the words that our patients summon in an effort to describe and depict their concerns and dilemmas. I am listening to those words with particular care when families are in the midst of a developmental transition, because that is when they tend to be most emotionally thin-skinned, and, as a result, their language tends to become increasingly intense and evocative.
From my perspective, for example, adolescence is essentially a time of loss. Teens must close the door on their childhood in order to open the door into adulthood, and parents of teens must close the door on the stage of life during which they are most essential and most relevant—that of raising children—and prepare to enter a twilight that can certainly be meaningful and enriching, but that is nevertheless less significant than when they were intimately involved with caring for their young.
The necessary closing of these developmental doors on the part of both generations cannot be completed without considerable feelings of grief and loss. "The tomb becomes the womb" is one of the ways in which I attempt to capture, for teens and their families, the necessary grief that is the handmaiden to growth, to the resolution of one chapter of life in preparation for authoring the next one.
That is why countless adolescents have plaintively admitted to me that, "I am a loser." What they appear to be saying, at least on the surface, is that they are losing at the game of life, not experiencing success in the realm that holds most significance for them, which might be anything from having a girlfriend to making the soccer team to being admitted to the college of their choice. But while they may be talking about losing-as-opposed-to-winning, what I am hearing them struggle with is losing-in-the-sense-of-loss—they are unwittingly acknowledging with their words the loss of their childhood, and all that childhood has been, for better or worse, associated with.
For the same reason, countless parents of adolescents in my office have offered phrases like, "I'm tired of him giving me grief" or "I am at a loss as to how to handle her." "Giving grief" is exactly what teenagers do—as they blossom into the springtime of their lives, they nudge parents further towards the margins of life, reminding them of their vulnerability, their susceptibility, and, ultimately, their mortality. Intentionally or unintentionally—and it is usually a combination of both—they insist that their parents mourn.
And in the same context, the phrase "at a loss" also defines, with exquisite precision, the emotional phase that adolescents thrust their caregivers into—a time of loss when they must come to terms with the unmet dreams and unfulfilled promises that unavoidably litter the landscape of middle-age.
As clinicians, we understand that grieving is, ultimately, a liberating process—it frees us to let go of the past and evolve successfully into the future. When we don't grieve we inevitably wind up developmentally marooned, unable to gain traction and successfully adapt to life's changing circumstances, its unrelenting volley of slings and arrows. Unfortunately though, from my perspective, our culture does not do a particularly good job of speaking the language of grief—we instead choose to emphasize endeavors such as achievement, entertainment, and acquisition, none of which, in and of themselves, emancipate us in any enduring way.
We do our patients a tremendous service by attending carefully to their words, and helping to illuminate for them the healthy, developmental grief that is a crucial component of their successful adaptation to the crises and challenges that life bequeaths to us. Our clinical voices—what we say and how we say it—will hold forth their most profound healing powers when we allow ourselves to listen carefully to our patients' plaintive voices, and enable them to hear their own melodies of loss and longing, the melodies that all of us must learn to sing.
Teenager image available from Shutterstock.